EUL students organized social awareness activities for women's day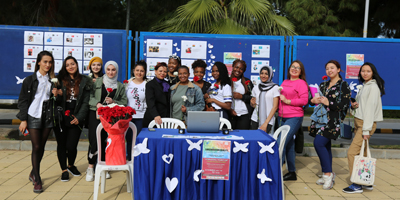 The International Student Club, which operates under the European University of Lefke (EUL) Centre for Social and Cultural Activities, organized exhibitions and social activities on the EUL campus due to March 8, International Women's Day.
Students drew attention to International Women's Day with different activities
In the stands set up in the EUL Plaza area, students draw attention to the meaning and importance of the day and presented flowers and gave special messages. EUL students from various countries also opened a photo exhibition with photographs of famous and powerful women in their countries and conveyed information.
EUL students stated that they wanted to raise awareness on March 8, International Women's Day and that they held different activities every year as a club, and one of the issues they emphasized was Women's Day.