EUL Students paid a visit to the Society for the Protection of Children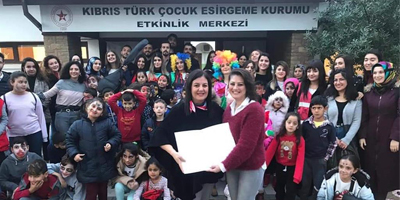 European University of Lefke Elementary Teaching Department Club and Red Crescent Club paid a  visit to the Society for the Protection of Children.
Giving information about the visit, The Head of the Elementary Teaching Department Assist.Prof.Dr. Çağda Kıvanç Çağanağa said that the aim of the visit was to entertain the kids living in the Society for the Protection of Children with music and game activities and added that by means of these visit which are held annually they had the opportunity to have a nice day with children and to reach and help different segments of the society with the understanding of social responsibility of the club students..
During the activity, students provided children with fun hours by playing instruments, educational games, body percussions and educational songs.
Students of Elementary Teaching Department made examples of traditional Turkish Cypriot children's games to the children in the institution and gave various gifts to the children. At the event, EUL students and children had the opportunity to spend quality and fun time by merging.
Speaking at the end of the event, the responsible teacher of the Protection Society, Çiçek Azizoğlu thanked EUL students for their sensitive behaviour.