EUL Students who set their heart on theatre performed successful sketches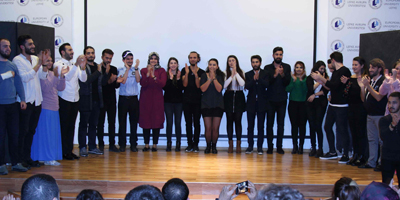 "Couple of Theatric Works" Performed at EUL
Four distinct sketches named "Couple of Theatric Works" organized by European University of Lefke Theatre Club were performed successfully by theatre players of theatre club. Academicians and students showed great interest to the theatre play that took place at EUL Rauf Raif Denktaş Educational Complex Conference Hall.
EUL Theatre Club President and the Director of the play Öykü Gül Seçkin pointed out that the club has been performing actively since 2005 and added that the club consist of talented students who have set their heart on theatre. Seçkin said that in the 2017-2018 Academic Year, they have incorporated new students in the place of students who graduated with the help of promotion activity.
"Couple of Theatric Works" named sketches attracted great attention
Giving information about the preparation process Seçkin pointed out that they harmonized the experienced players with the ones who will be performing for the first time and by doing so they performed four different sketches under the name of "Couple of Theatric Works".
Pointing out that the student of theatre club performed a successful play by acting with sense of responsibility and team sprit Seçkin thanked Assistant Directors Gülşen Gültekin, Yaren Gül Kolik and Stage Manager Yılmaz Karafakılı for their self-sacrificing contributions. Seçkin stated that they have been receiving proposal for the play named "Couple of Theatric Works" that is composed of sketch community and added that the club was honored by the intensive demand of the students and by the contributions of the management.
Seçkin said that they were the hall was overflowed with the audience, and they were extremely pleased with the interest on the play and added that "We will continue to be with the audience with new projects with big surprises in the second term".