EUL TV provides students with experience of broadcasting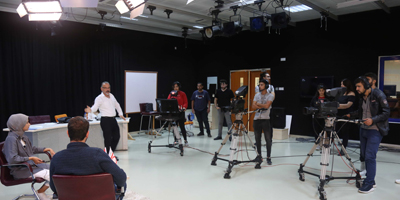 EUL TV which is associated with the European University of Lefke, offers students the opportunity to practice with its studios surrounded with the latest technology.
Various tasks are given to the students to provide them with broadcasting experience.
Apart from being a laboratory that offers the students of Faculty of Communication Sciences opportunity of practice, programs for the national TV channels of Northern Cyprus are being produced in the studios of EUL TV.
Providing a student-oriented service, EUL TV, undertakes an effective task in terms of utilizing the leisure time of the students by providing trainings to other faculty students who are interested in television in addition to the students of the Faculty of Communication.
The trainees turn their theoretical knowledge into practice in the studios of EUL TV equipped with the latest technology.
In addition, EUL TV provides the students of technical high schools in the region with the opportunity to do internships at qualifying them with relevant skills.   First of all, the trainees are informed by the expert staff and lecturers of EUL TV; Theoretical trainings are given on subjects such as personnel structure of a television channel, preparation stages of television program, television broadcasting in live broadcasting, stage management process of a television program, video editing, cinematography, sound and lighting techniques in television broadcasting. Later, trainees transform this theoretical knowledge given to them into practice in the EUL TV studios equipped with the latest technology. Thus, the information acquired by students during the internship is made permanent, which gives them the chance to start the television industry one step ahead.
EUL TV productions can also be followed from 'LAUTVOfficial', the official YouTube account of the university.