EUL was accredited by the Zimbabwe Higher Education Council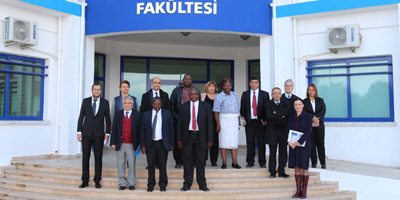 European University of Lefke (EUL) was accredited by the Zimbabwe Higher Education Council.
EUL, offering education to international students from over 62 different countries, has added another to its international accreditations. As a result of long-term studies, EUL which continuously grows day by day, was monitored for three days by the President and the committee of Zimbabwe Higher Education Board.
Amongst the main aims of the Zimbabwe Higher Education Council, which visits the higher education institutions where Zimbabwean students are educated, is to examine if the educational institutions are quality and to assess the adequacy of the physical infrastructure required for the development of the pupils, the autonomous university administration, the academicians' infrastructure and the potential of research and development work.
The committee, which held meetings with the administrators and lecturers from different departments of the university, also came together with the students from Zimbabwe.
The committee examined the laboratories, classes, dormitories and cafeterias of the English Preparatory School of the EUL, the Faculty of Agriculture and Technology of Güzelyurt, and the (Güzelyurt campus). The delegation shared their positive views on the university and stated that they were very attracted especially by the Engineering Faculty Laboratories, the Faculty of Health Sciences Laboratories and the agricultural and production areas in Güzelyurt Campus.
EUL is a very good institution of higher education in terms of reaching the public
In the final declaration, the Zimbabwe Committee reported that EUL is a very good institution of higher education in terms of education, research, social responsibility projects and public access. Particularly the ingrained operation of the Quality Assurance System, was a pleasure for the Committee and they would use similar techniques in their own countries. The delegation emphasized that the dormitories and the cafeterias are in very good condition and that the students can safely choose this place, and that the facilities of the library, the classrooms and the laboratories are an invaluable opportunity for the students.