Ezgi Mola met with her fans at EUL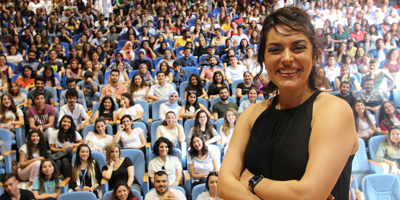 Intense Attention from EUL Students
Under the framework of European University of Lefke (EUL) Spring communes, famous actress Ezgi Mola was a guest of EUL.
Mola: EUL has a great energy
Ezgi Mola who is known for her successful acting career and also for her             cordiality, naturalness, and humorousness said that "I would like to thank everyone who has participated, I am very happy. All I see is happy faces, and I encounter with sweet people, this is very precious. EUL has a great energy".
Mola: I enjoy acting so much that I get all excited when I'm doing this job
Mola said that "I never thought of the financial side of acting. I enjoy acting so much that I get all excited when I'm doing this job. I always believed that, in order to be discovered; you need to believe in the work you do, respect it, be good at what you do and follow the world, after you do these things, we can see the results together". Mola said that she never tried to show herself in order to become prominent, and that even if she showed herself, and she also said that, even in times when someone was trying show themselves, she tried to stay behind to not to be misunderstood. Emphasizing her affinity to the profession of acting, Mola said that taking roles with different persons always excited her. Mola also stated that, "So, do what you love, do not shrink your duty, do best you can and they will finally see you".
Mola pointed out that, she always does empathy with the characters that she personalizes and added that "I just try to feel that character, thinking that what I would do if I was really there. But on the other hand there is a text, a script. So the dialogues in that scenario are guides the character and gives all the tips of the character. We try to create a character from the dialogue". Mola said that, in the cases where she has to play a sad role, she tries to feel her own sentiment of loss, to memorize her sorrow, despair and sadness and by doing so she tries to find a way from that point.
Mola who has gained great attraction with the song videos that she uploads on social media, made a small duet with the students at the request of students.
At the end of the commune, a plaque which reflected the Cyprus Culture was presented to Mola by the Students' Dean Özgür Yılmabaşar.