Famous Players of Istanbul Meydan Sahnesi performed their Play named "Vay Sen misin Ben Olan" at EUL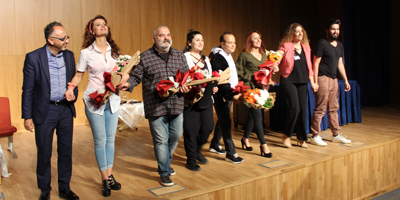 Under the framework of European University of Lefke (EUL) spring events, famous players of Istanbul Meydan Sahnesi performed their play named "Vay Sen misin Ben Olan" at EUL. The theatre play, which was performed in 18 day Europe Tour including Germany and Sweden, also in 80 different places in Turkey, meet with theatre lovers at EUL.
The play which reflected the fact that some people's characters do not change according to their living conditions and that they do not break the habit of a life time, was about two different marriages, narrated with a humorous language and it attracted intense attention of art lovers. The performances of the players in the play which emphasized that two friends who grew up in the same living conditions and culture can have different identities, received a standing ovation.
The play which was written by Ömer Pınar and directed by Galip Erdal included important players such as; Kemal Kuruçay, Tuba Erdem, Deniz Oral, Ece Müderrisoğlu, and Kemal Zeydan. At the end of the play, EUL Rector Advisor Assist. Prof. Dr. Mehmedali Egemen presented a bouquet of flowers to the players and a plaque to the Fidan Sofuoğlu which she received on behalf of İstanbul Meydan Sahnesi.