Famous Presenter İlker Ayrık hosted by EUL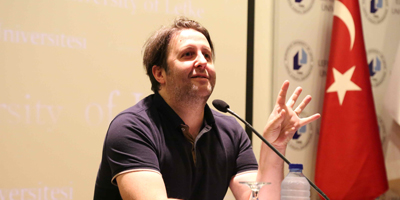 European University of Lefke (EUL) hosted the famous presenter, theater and cinema artist İlker Ayrık.
The famous TV presenter İlker Ayrık came together with the EUL Stuednts during the commune held at EUL Rauf Raif Denktaş Conference Hall. Ayrık, besides his theater actor profession, has also acted in various cinema, TV Series and advertisements since 2002.
Ayrık: Winning Müjdat Gezen Art Center is the breaking point of my career
Describing how he started the theater, Ayrık said he went to the theater course at the Public Training Center for two years in Istanbul, twice entered the conservatory examinations and could not win. Ayrık stressed that every year which he failed to enter the conservatory was a loss for himself. He said that over time, those two years have earned him the ability to learn easily, thus turning out to be an asset rather than a loss. Having said that he was the assistant of Mujdat Gezen for five years after his education life ended, Ayrık said that he continued as a teacher at Mujdat Gezen Arts Center and now he owns a theatrical company he founded, and he took part in theater, theater and cinema. Ayrık stated that the career of winning Müjdat Gezen Art Center was a breaking point in his career.
Ayrık answering the questions forwarded about the projects he was part of, stressed that Çakallarla Dans which was screened with two year intervals, was one of the rare films shot after keeping the main character after the Hababam Sınıfı. Çakallarla Dans, according to Ayrık, is a making which witnessed it era of events and which conveyed its values though a homorous way and that he is more than honored to have been included in this project.
Upon a question forwarded about how he was able to swap between the different characters of the makings "Çakallarla Dans, Ben Bilmem Eşim Bilir and Seksenler", Ayrık answered that "It's all different times of work, this is a professional life, of course, I do it with love and passion. So when the set is finished with the character Çağatay, this character stays in the Seksenler, and when I go to the set of Çakallarla Dans I enter the character of Servet. These are the identities I have imitated as a professional ".
Ayrık: Career choice is the first source of happiness in life
"There is no chance that a person does not succeed from the moment he does the job he loves. Because you always wonder something, you learn as you wonder, you continue to wonder as you learn. This is something that grows like a snowball as it develops." Ali said that he did not know why he chose theater or why cinema, that he only felt it for a moment, and that  he liked his job and chose his profession, which meant loving and choosing life.
Ayrık said, "School is not really a building, it is not a business, what you call school is a love, the building serves it, the building is an instrument, a school opens for students, it opens for you. There can be no purpose other than a student in a school. Teacher is also an instrument, an instrument in the building, everything is instrument, the student is the real one, you are the main. Do not underestimate yourself, never neglect it, because you are much more important than you think. "
At the end of the commune, Advisor to the Rector. Assit. Prof. Dr. Mehmedali Egemen presented a commemorative plaque to Ayrık, reflecting the cult of Cyprus.