Kenyan Students organized a Cultural Activity at EUL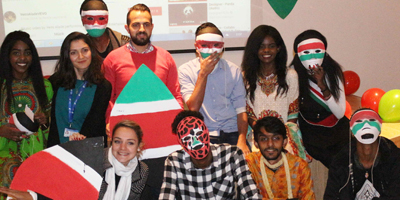 European University of Lefke (EUL) Office of Students' Dean and External Relations Directory organized an activity themed "Kenya Cultural Day".
Staff of EUL Students' Dean Office and External Relations Directory and students participated to the event.  In the event, visuals were demonstrated and information was given about Kenya's history, natural beauties, tourism, and speeches were made about the meaning and significance of the day.
The second part of the program continued with the offerings of Kenyan food prepared by the students. In the event, students had the opportunity to introduce their culture by presenting their local dance shows. The students who enjoyed the opportunity to listen to the music of Kenya's favorite artists expressed their enthusiasm for being able to share the cultural of their countries and to integrate with their friends.
The program ended after the offering of a special cake prepared for the event and the students expressed their thoughts about the culture day as follows:
Noella Awuor Waswani Ouko: I am a second year student at the Department of Interior Architecture. I love EUL, Lefke and North Cyprus very much. We are studying in a very peaceful and safe environment. People are very warm and friendly. It is a good feeling to introduce my country in my university. Although the organization was organized for the first time, we created a good synergy with all our friends. We would like to thank the EUL management for providing such activities.
Alina Sagyndykova: I am a first year student at the Department of Business. We organized a beautiful event in a multinational and multicultural environment. It was very important for me to introduce my country's culture to my friends. It is very fun and special to see dishes, music and dances of my country.
Oksana Ashraf Kana: I came to EUL with the advices of my relatives. It is a wonderful feeling to reflect and live our country's culture to our other friends. Thank you EUL.