Orientation Days of EUL attracted intense attention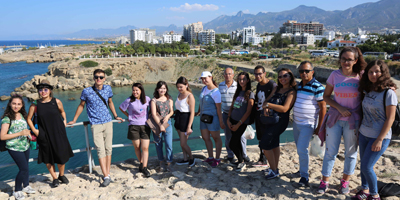 Concerts and trip activities were conducted under the framework of European University of Lefke's Orientation days which includes many social and cultural activities.
Adaptation titled seminars were also included in the program which is organized with the aim of introducing university life and Northern Cyprus to the students and preparing students to a new academic year with a good motivation. In the seminars which promoted students to recognize their new environment, to explore the possibilities and opportunities of the university, to become aware of their interests and abilities and to participate in activities appropriate for them, detailed information was given to students by the Office of Admissions, Student Affairs, Information Processing and Accounting Department and Office of Student's Dean.
In the program which also included trips to the historical places, in addition to the trips to Lefke and its region, new students had the opportunity to visit the capital city Nicosia and Girne, which attracts attention with its tourist attractions, and to see many cultural assets on site and get to know the environment.
Students had the chance to socialize and meet with new people with the activities
Under the framework of orientation activities which were very successful and attracted intense attention, Nafiz Dölek concert took place at EUL. Nafiz Dölek who took place in many festivals within Turkey and Cyprus, come together with the students of EUL. Dölek who displayed a successful performance, gain the attention of EUL student's. Students also had the chance to socialize and meet with new people at the concert.