Panel on "Violence During Pandemic" was held at EUL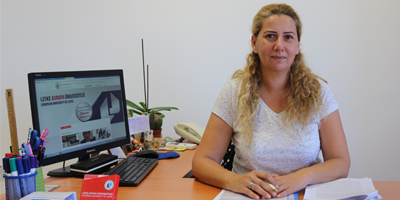 European University of Lefke (EUL) Faculty of Arts and Sciences Psychology Department organized a panel on "Violence During Pandemic" online via Microsoft Teams.
Head of Psychology Department Assoc. Prof. Dr. Zihniye Okray "Faculty Members and University Students in Transition to Emergency Distance Education", Faculty Member Assist. Prof. Dr. Cemaliye Direktör "Children in the Pandemic and Social Isolation Process", Asst. Prof. Dr. Sultan Şehitoğlu made presentations on "Women and the Elderly in the Pandemic and Isolation Process" and Beliz Köroğlu, the Lecturer, on "The Effects of Pandemic and Social Isolation on Individuals" and Dilem Öke "Primary and Secondary Education in the Transition to Emergency Distance Education".
Providing information about the online conference titled Violence in the Pandemic Process, the Head of the Psychology Department, Okray said, "Although the pandemic process deprives us of the face-to-face conferences we are used to, as EUL Department of Psychology, we continue our activities that we organize every year without any obstacles". He emphasized that in the pandemic process, attention was drawn to the different types of violence and risks experienced by children, adolescents, adults and especially the elderly, as well as the difficulties faced by primary school and university students in this process.
Okray stated that the feedback received from the students in the online conference, which was held with the participation of a large number of students, was very useful for them to participate actively and to listen to the psychological effects of the process in more detail.
He concluded his words by informing that a second online conference will be held by the Department of Psychology in December, where mental health disorders and coping strategies frequently experienced in Psychosocial Crises (earthquakes, pandemics, fire, etc.) will be discussed and anyone who wishes can attend the conference online.