Professionals of Tourism Relayed Information to EUL Students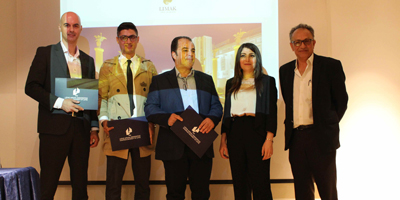 "Career Day" Organized at EUL
European University of Lefke (EUL) School of Tourism & Hotel Management organized a "Career Day" activity. Limax Cyprus Deluxe Hotel – Bafra authorities, General Manager Mehmet Mülayim, Customer Services Manager Kere Sertbaşlı and Chief of Human Resources Unit Emrah Kamalı attended the activity as speakers.
Academicians of School of Tourism & Hotel Management and students of Gastronomy Department and Tourism Management Department showed great participation to the activity. In the event, Limak Cyprus Deluxe Hotel Customer Services Manager Kerem Sertbaşlı gave the students a detailed overview of the hotel by providing a visual overview and presentation of the hotel.
Giving information about the "Importance of Internship in the Development of Career" General Manager Mehmet Mülayim   explained the importance and necessity of doing practice in various parts of the hotels during summer semester in addition to the theoretical information that students of Tourism Education take to succeed in their future professional life.
In the interview part of the activity, students have made written applications for 2018 Summer Internships in various departments of Limak Cyprus Deluxe Hotel together with the authorities.