"Resist Against Violence" panel hosted by EUL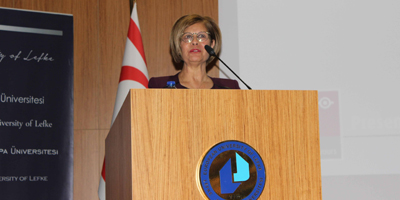 The panel "Resist Against Violence" hosted by European University of Lefke was organized together with the Turkish Cypriot Bar Association and Association of Women to Support Lliving (KAYAD).
The opening speech of the panel held at the EUL Faculty of Law Large Amphitheater was made by KAYAD President Meral Akıncı. She pointed out  during the panel that gender inequality and violence against women and domestic violence were not religious, language, racial or ethnic origin, and that regardless of their educational and income levels, women were exposed to violence by their closest relatives.
Akıncı: Every data presented is a woman who does not feel safe
Through numerical data obtained by Resist Against Violence Project, you will be able to witness, in our country and proximate surroundings, the lives of those women and children in their homes; in regards to domestic violence.  In short Akıncı stated that, every data presented is a woman who does not feel safe and that women have lost their lives due to domestic violence and have been forcibly removed from work and society.
Violence of any kind, says Akıncı, is been veiled within the society and that almost in each home there is a violation of human rights which is a problem of all the people of the society, not only those who experience violence. Akıncı uttered that these incidents are not at individual level but a socio-cultural issues which is regarded as criminal act in developed countries and which measures are set to avoid future violent activities.
Akıncı said, "No matter where in the world we live in, our belief is that every individual has the right to live a life with no violence, and this raises our awareness of all forms of violence, preventing cultures from taking part in normal acceptance within their own traditions and understanding."  Akıncı stated that, as a result of the researches, reports and observations made, most of the people exposed to negative behaviors such as insults, intimidation, humiliation, restraint of liberties, obsession, worthlessness, and the like, also showed such behavior to their spouses and children as well.
The legal dimension of violence was addressed
Mine Yücel, moderator of the panel, noted that domestic violence is a major problem throughout the world, highlighting women's place in society, talking about men and women's places in society, and especially educated women who are exposed to violence are hiding it more.
Within the panel, Anna Karamanou, founder of the Greek Political Women's Association, "Domestic Violence and Practices in Greece", Perihan Misel, volunteer lawyer of the Mor Çatı Women's Shelter Foundation, "Mechanisms for Females in Turkey against Women", Domestic Violence Prevention Advisory Board President Susana Elisa Pavlou, "Violence Against Women in the South of Cyprus and Legal and Political Regulations in this Context," Project Coordinator Against Violence Mine Atli  "Domestic Violence in North Cyprus, Legal Legislation and Trouble in Practice", have all presented their studies to the participants.
Panel discussion with intensive participation ended with question and answer section. On the second day of the panel, workshops will take place with the participation of experts.