Saba Tümer known for her Cheerful Laughter was at EUL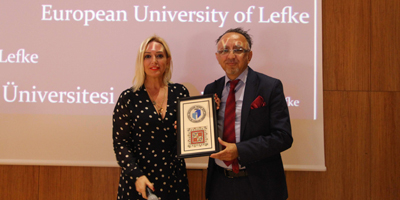 Saba Tümer met with her fans at EUL
Under the framework of European University of Lefke (EUL) Spring Communes, famous actress and author Sabah Tümer was a guest of EUL.
In the commune program which took place at EUL Faculty of Law Conference Hall, Saba Tümer known for her cheerful laughter said that discover new people, find positive reviews and compliment, be happy, make happy, good people are not always happy, but happy people are always good, happiness is a must for people and she gave examples from her book titled Happiness in 21 days and give some recommendations on happiness to the students.
Pointing out that trying the cover sadness results with failures, Tümer said that in the last few years her laughter had begun to diminish, that she is not laughable, and that she is in a state of unhappiness. Tümer said that, at this point she started to question herself and added that "Happiness is a must, I have made some decisions on my own, thinking that my happiness should not be depended on causes and consequences, and I have come out on my own journey of happiness,".
Giving information about her book titled Happiness in 21 days, Tümer said that first she stated to apply the formulas for happiness to herself and that the formulas were very useful, that with the formulas she recovered herself, loved herself and started to gain her laughter again. Tümer said that "Then I decided to share this with people. At first this was completely journey of my own, there was never such a thing in my mind. I then thought to myself, it would make me very happy if I would be able to change the life of even one person".
Giving advices to the students, Tümer said that "Everyone's life journey is for their sake, so listen to your inner voice in your own way, make peace with your inner voice, and lead you on that life journey,". Tümer answered the questions of students sincerely and thanked the students for their intimate conversations and EUL for the invitation.
In the commune with the students which attracted intense participation, Tümer signed her book for the students in the scope of the interview and took special souvenir photographs with the students.
At the end of the commune a plaque which reflected the Cyprus Culture was presented to Tümer by Rector Advisor Assist. Prof. Dr. Mehmedali Egemen.