Significant project from EUL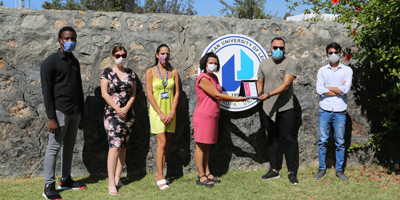 A "Donation Campaign" was organized by the International Students Club affiliated to the European University of Lefke (EUL) Social and Cultural Activities Center. Many students contributed to the campaign organized for the Cancer Patients Aid Association.
Students stated that they wanted to contribute to the association, even a little, with the campaign made especially during this pandemic period. Many clothing donations collected through the campaign were delivered to Mustafa Şenal, Head of the Cancer Patients Aid Association, Lefke Region Youth Branch.
A plaque of appreciation was presented to the Social and Cultural Activity Center Director Kezban Zurnacı and the Foreign Students Club Committee on behalf of the association by Şenal, the official of the association, for their meaningful contributions.
Kezban Zurnacı, Director of the Social and Cultural Center, said that "all humanitarian aid and all touches are important when there are so many negative events in our world" and expressed that they are pleased with this behavior of the students.