"Smart Agriculture" discussed at EUL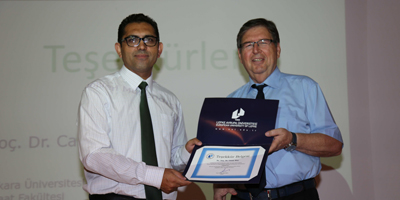 High demand for food can be met by Agriculture 4.0, which envisages the use of high technology in agriculture
European University of Lefke (EUL) Faculty of Agricultural Sciences and Technologies organized a seminar themed "Agriculture 4.0". Academician of Ankara University Faculty of Agriculture Department of Department of Agricultural Machinery and Technologies Assoc. Prof. Dr. Caner Koç attended the seminar as a speaker.
Koç: Smart Agriculture includes a developed system approach
Emphasizing that with the integration of agriculture and information technologies, many new technical terms began to be heard in daily life, Koç gave smart agriculture, precision agriculture, digital agriculture, farm management software and autonomous vehicles as the examples of these technologies and stated the smart agriculture as the most popular one. Koç stated that smart agriculture includes an advanced system approach where control, electronics, computers and database and account information come together and stated the compenents of this technology as; global positioning systems (GPS), geographic information systems (GIS), variable rate input application (VRA) and remote sensing (RS).
Koç further stated that today, 800 million people are starving, 2 billion people are not able to reach qualified food, and the world population is increasing rapidly and added that according to the data of the Food and Agriculture Organization (FAO), the world population will be 10 billion in 2050 and as a result, 70% more food will be needed than the foods produced today. Koç stressed that this high demand could be met with Agriculture 4.0, which envisages the use of high technology in agriculture.
Koç also said that "Physical and geographical variations of agricultural lands, non-uniform soil, crop and environmental factors, the impact of inputs on the environment and increasing costs against the rising intensity is another important issue also emphasized" and added that sensitive agriculture is foreseen to ensure economic efficiency through effective use of inputs (as necessary) and to reduce its environmental impact. Koç underlined that this can also contribute to ensuring uniformity in product quality and listed the aims of sensitive agriculture as; reducing chemical costs such as fertilizers and pesticides, reducing environmental pollution, providing high and high quality products, providing a more effective information flow for business and aquaculture decisions, and establishing registration in agriculture.
Koç: With Automatic Steering System, trace deviations from the operator can be prevented
Koç said that reduction of chemical costs such as irrigation, seed, fertilizer and medicine; protection of the environment by reducing these uses; providing high quantity and quality product; providing a more effective information flow for business and aquaculture decisions and establishing registration order in agriculture are among the aims of smart agriculture. Later on, at the end of his presentation, Koç touched upon some techniques which are among the examples of agriculture 4.0 and said that "For example, depending on the terrain profile required by the user, the Automatic Steering System allows the automatic control of tractors with the help of geolocation (GPS) tools, and enables precise rate-based applications to be made according to the terrain map where operator deviations can be prevented".
Koç further stated that the messages, which are placed in accordance with the international ISO 11783 standard on modern agricultural machines and which are collected with the protocol called ISOBUS, can be transferred to the long distance via radio link, allowing communication, processing of the collected data on the map, historically viewing and analyzing. Koç underlined the application examples of unmanned aerial vehicles (UAVs) in agriculture and underlined that images obtained with sensitive cameras on UAVs can be processed to create a library for soil, drought, fertilizer requirements, harvest estimation, yield calculation and different products.
At the end of the seminar, Dean of Faculty of Agricultural Sciences and Technologies Prof. Dr. Mehmet Atilla Aşkın presented Koç a certificate of appreciation.