Social responsibility projects by EUL students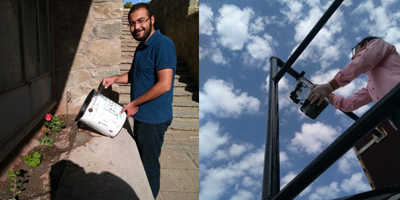 Under the leadership of Assist. Prof. Dr. Anıl Görkem, the lecturer of Community Service Practice course, the senior students of European University of Lefke (EUL) Dr. Fazıl Küçük Faculty of Education- Guidance and Psychological Counseling Department, have realized social responsibility projects entitled "I Am Painting My School", "No School Without A Library" and "Colored School Colorful Future"
"I Am Painting My School"
Görkem, who gave information about the works, expressed that they made improvement in the Lefke İstiklal Primary School within the scope of the project "I Am Painting My School". After finding volunteer sponsors amongst the Lefke tradespersons, the students indicated that they had painted the exterior walls of the school, the doors and the trees in the school garden, as they were provided with the necessary materials.
"No School without A Library"
Görkem, explaining further about the Project entitled "No School Without A Library" stated that students, with the help of their own contributions and also the bookstores have donated pre-school level painting, activities, reading books and question banks to Erdal Abit Primary School.
"Colored School Colorful Future"
Stating that the students are making arrangements in the surrounding environment and the library of Cengiz Topel Industrial Vocational High School within the scope of the project "Colored School Colorful Future", Görkem congratulated the students on their successful social responsibility projects and expressed gratitude to everyone who has completed the program.