The Concert of the Year with the Sponsorship of EUL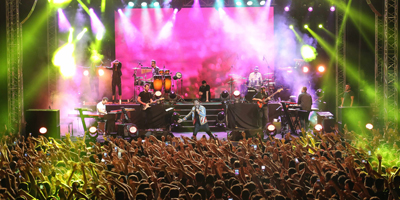 Kenan Doğulu welcomed with enthusiasm at Lefke Karadağ
Kenan Doğulu who is amongst the most important Turkish Pop music artists, met with his fans with a huge concert that European University of Lefke organized. Doğulu who gave his first open air concert at T.R.N.C with the organization of EUL met with his fans at Lefke.
Doğulu gave an amazing concert to the EUL students and all his fans in May 24 Thursday night at the Lefke 16 Ağustos Kurtuluş Stadı. Performing an unforgettable performance for his fans with his great energy and repertoire, Doğulu sang his songs for his fans on the gigantic scene where the light and sound system was specially prepared for him.
Doğulu entertained the youth with his timeless songs and energy.
Doğulu was welcomed with a great and enthusiastic fan base and the listeners changed their moods from enthusiastic and fun to romantic and emotional with the different songs of Doğulu. He also invited the students to the stage and created a sincere synergy with the dance performances.
Kenan Doğulu who sang his popular songs such as "Sımsıkı", "Aşk ile Yap", "İlk Adımı Sen At", "En Kıymetlim", "Tencere Kapak", "Dön Gel", "Çakkıdı", "Ben Güzelden Anlarım", "Kalp Kalbe Karşı" along with his orchestra, attracted intense attention of his fans with his energy, dance and stage shows.