"The Elegancy of Speaking Proper Turkish" discussed at EUL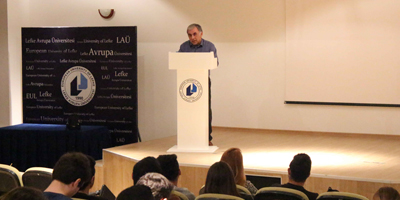 European University of Lefke (EUL) Faculty of Communication Sciences organized a seminar titled "The Elegancy of Speaking Proper Turkish" which had two sessions. Program producer and newsreader of several national channels in T.R.N.C and member of Broadcasting High Council Erol Atabek attended the seminar as a speaker.
Atabek listed the main components of speaking as; to use a meaningful and understandable speech, correct and proper selection of words according to the context, correct placement of clauses, correct pronunciation of letters, and correct use of all these elements with correct intonation and emphasis.
Atabek; We can reflect ourselves with correct emphasis
Atabek said that, "We wake up early in the morning and we say to our friends and relatives, 'Good morning', even this word reveals whether it is spoken nicely with the right intonation and emphasis performed during the vocalization,". Atabek said that while the word 'Good morning' seems simple and uniform, with the toning and emphasis made during the pronunciation, the emotions within us can be reflected, and the respect and love of the other side can be expressed.
Atabek said that "Good writing is the beginning of good speaking" and added that the important thing in writing is not to transfer the letters to a paper to flawlessly but to create meaningful and understandable sentences with a correct sentence and grammar order.
Atabek pointed out the importance of knowing how to breathe and to use breathing in beautiful speech, and said that breathing is divided into two as abdominal breathing, and diaphragmatic breathing, and that if you do not breathe properly with the right technique, you may be tired after you start to talk. Atabek emphasized the importance of regulation and timing of breathing during speech.
Atabek: Intonation is the composition of talking
Describing intonation as the composition of talking, Atabek said that in a way notes are used in the process of speaking. Atabek stated that intonation was of special importance during the transfer of emotions and thoughts to the other side during the conversation and added that the word emphasis is connected to various rules, while the emphasis in the words change depending on what is intended to be reflected.
In the second session, Atabek gave examples about intonation, emphasis and pause and applied various examples to the students participating in the seminar.
At the end of the seminar Dean of Faculty of Communication Sciences Prod. Dr. Belkıs Ayhan Tarhan presented a certificate of appreciation to the Broadcasting High Council member Erol Atabek.