The most effective method in autism is "Applied Behavior Analysis"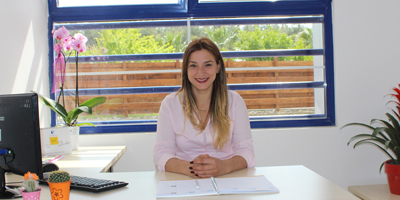 EUL Instructor Bilmez emphasized the importance of early diagnosis in autism
European University of Lefke "Practice, Research and Training Center for Children with Special Needs" (ÖÇEM) Instructor Hatice Bilmez explained the subject by giving information about autism spectrum disorder.
Defining autism spectrum disorder as a developmental disorder of neurological origin, which is a very special education category that is frequently heard in our country as it is in the whole world, Bilmez explained the present prevalence as 1 in 68 children.
Bilmez stated that "The most basic shortcomings of autistic individuals are social interaction and communication, as well as they have to have obsessive and repetitive behaviors." Bilmez also pointed out some of these statements:  Not to make eye contact, not reacting to name, not responding to smile, not reacting to the "peek-a-boo" game, not looking at a pointed object or thing (for example, pointing to the child by pointing his mother with a flying fingertip, but not pointing the child in the direction of the direction indicated), not pointing something with his finger, (Such as turning only the wheels of a toy car), reacting to environmental changes, feeling sensual, such as smell or taste, or not, even if you do not even say a single word, flap your hands constantly or swing to the left or right, walk on your fingertips, showing too much or too little sensitivity to features (for example, being extremely uncomfortable when touching wet objects).
Bilmez stressed that, "When the autistic individuals are not intervened in the early period, it becomes difficult to intervene with these inadequacies, and behavior problems increase because of their communication theories." Bilmez therefore noted that autistic individuals should be diagnosed at an early age and begin special education at an early age.
"Autistic individuals have no difference from their peers in terms of physical appearance. "The child may look very normal until the age of 1", Bilmez said. However, Bilmez also emphasized that a specialist should be consulted immediately when the above symptoms are found in social interaction and communication.
The most effective method is "Applied Behavior Analysis"
Bilmez said, "The causes of autism spectrum disorder are still mysterious today. Today, possible reasons include genetic basis, social environment and physical environment, and many scientific research have been carried out. However, it remains unclear which one is causing autism, as the causes of autism spectrum impairment are not yet known, and there is no exact medical treatment. For this reason, special training for autistic individuals is required. It is crucial that this training be started at an early age and be intensive. Effective instructional practices should be preferred in the education of autistic children. Numerous scientific research have been conducted and continue to be carried out in order to determine these teaching practices. There is strong scientific evidence that the most effective method of training of autistic individuals is "Applied Behavior Analysis". With this method, there are research findings that indicate that early childhood and intensive education children's autism symptoms are virtually disappearing, and that their lives can be maintained independently. Families need to be aware of the fact that they are sensitive to this issue and that the education they provide to their children should be based on the Applied Behavior Analysis. Bilmez said that various medical treatments and therapies such as sense integration therapy, aqua therapy, game therapy, various food diets, purging treatments should not know enough scientific bases and should never stop special education support.
Bilmez: We hope that autistic children can be diagnosed at an early age
Bilmez said that European University of Lefke Special Needs Children's Application, Research and Training Center (ÖÇEM) has been training its pioneer since April 2015 under the leadership of Prof. Dr. Ayşegül Ataman, a specialist for children with special needs, and said that the vast majority of children in this center are children with autism.  Bilmez stated that these children were given intensive training based on Applied Behavior Analysis methods and techniques and that families of these children were also provided with specific education. Finally, Bilmez said, "As a special education specialist, we would like to be able to diagnose autistic children at an early age, to start an appropriate education without wasting time, and to be able to control autism."