The Specifics of Dietetics Profession discussed at EUL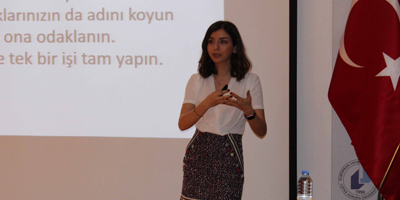 European University of Lefke (EUL) Faculty of Health Sciences Department of Nutrition and Dietetics organized a professional interview themed "Preparation to Occupational Life". Dietician Merve Betül Karakuş and Ayça Onursal attended the interview which took place at Rauf Raif Denktaş Conference Hall as speakers.
Karakuş said that, in the clinics, they serve their clients with individual consulting services, corporate consulting, brand consulting, traditional media, social media. Karakuş said that, in the clinic they offer counseling service; face-to-face or online counseling, physiological and psychological evaluation, personalized, flexible and motivating approaches, psychological support, shared responsibility, continuous training and follow-up services.
Karakuş said that, "Improve yourselves, read a lot, do not be afraid of making mistakes, embrace, take appropriate examples, write your visions every year, named the things you will do as well as the things you won't do, focus on what you want to do, instead of doing a thing bit by bit, do only one thing in depth", and gave recommendations to the students.
Onursal pointed out the aim of dietitian's in using social media as; preparing CVs, increasing interaction with clients or the social environment, raising and clarifying the profession's awareness and value, being able to organize online diet faster and making their voices heard. Onursal listed the things that should be paid attention in the usage of social media as; to be sure that the things that are written have scientific an ethical resources, to be careful on how to speak as well as what to speak, to stay away from dictating speeches, and to use motivational sentences.
Onursal finally said that, "Produce original and creative contents related to your field, know your followers and give them what they want, always be natural, do not forget that the quality of your followers is important, not just the number of followers; have a good knowledge of the sectorial developments and announce the developments first," and added that if there is no product or service to support what is said, no matter how much advertising is done, it will not be successful.
At the end of the interview, Academician of Department of Nutrition and Dietetics Assist. Prof. Dr. Nazal Bardak offered a certificate of appreciation to Karakuş and Onursal.