The transformation of cinema buildings and spaces in Nicosia was examined by EUL academician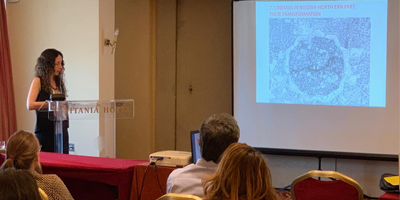 Protecting Cultural Heritage is of Importance
Academician of European University of Lefke (EUL) Faculty of Arcitechture Assist. Prof. Dr. Aliye Menteş gave an oral presentation representing EUL at the 9th International Architecture Conference, organized by the Athens Institute of Education and Research.
Menteş conducted her presentation which was on the transformation of cinema buildings and spaces in Nicosia: heritage of early- mid 20th century, together with the Academician of Girne American University Assist. Prof. Dr. Valentina Dona.
Menteş: Protection and reuse of cultural heritage should be encouraged
Giving information about her presentation, Menteş said that "  The aim of the study is to raise awareness of the importance and examination of cinemas and open-air cinemas in the context of the value of modern heritage in Northern Cyprus, thereby promoting the preservation and reuse of this endangered cultural heritage" and said that the study aims to investigate the historical relationships of these buildings and spaces with their surroundings and neighborhoods, as well as their transformed state. Menteş further stated that most of the cinemas were closed as a result of changing economic, political and socio-cultural lifestyles in the 1980s, some of the buildings were replaced by new buildings, some were abandoned and remained empty to the present day.
Menteş: Measures should be taken for the protection of modern heritage and cinema culture
Pointing out that her study aims emphasizing the role and multiculturalism of Cypriot architecture and Cypriot architects in the Mediterranean region between the years 1920-1960, Menteş said that the common features of cinema structures in other Mediterranean countries were discussed and the architectural features in which the reflections of the local texture emerged were analysed in the study. Menteş further said that "This study follows a qualitative research approach and important discussions have been made by examining the cinema buildings and venues in Nicosia. The research was carried out in Çağlayan area and Köşklüçiftlik, which is within the historical Walled City of Nicosia and its vicinity.
In the research, socio-cultural data that emerged as a result of surveys and interviews conducted with local people using these cinemas in the 1950-1960s emphasized that important and urgent measures should be taken for the protection of modern heritage and cinema culture.