Treatment sludge should be used in the construction sector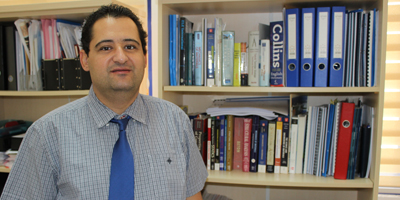 Head of Civil Engineering Department of European University of Lefke (EUL) Assoc. Prof. Dr. Ertuğ Aydın stated that the construction industry has developed widely in direct proportion to the rapidly increasing population and that a large amount of raw materials is needed for the sector.
Aydın stated that there has been a serious environmental damage for the construction sector, the carbon dioxide emission has increased due to these practices and that industrial wastes are widely used today, but they have not reached the desired level yet.  Aydın stated that the construction sector in the Turkish Republic of Northern Cyprus is developing rapidly and many high-rise buildings have been built, and emphasized the importance of aggregate requirement from quarries for concrete used in construction. Aydın stated that there was a serious amount of environmental damage during aggregate extraction, and that natural resources are rapidly being consumed for aggregate production and this disrupts the ecological balance and that industrial wastes should be used more for the construction sector.
Scientific based studies have shown that "sewage sludge" can be an alternative for the construction sector in addition to using industrial wastes. Aydın said that adding these wastes into concrete without processing them and proving that the final product meets the required material conditions "said Aydın, and pointed out that since the studies for using the treatment sludge without processing have not been done before, it is necessary to use this waste in a way and to reduce its impact on the environment. Aydın said, "It will be appropriate for our island with limited resources to evaluate its use in low strength class or light building materials such as brick, tile, cobblestone and briquette, with necessary experimental studies." and some of these studies were published in highly respected journals.