Wikipedia training program was organized for EUL Engineering students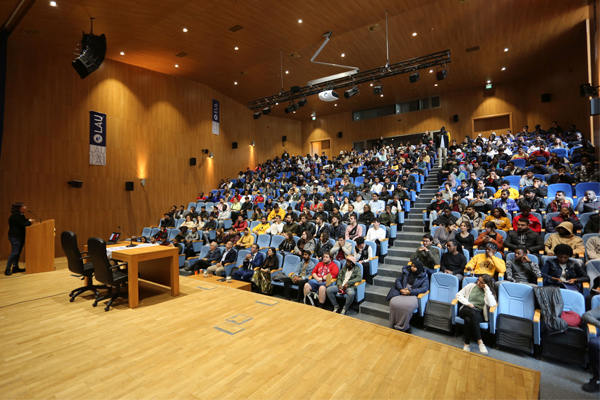 Guest Wikipedants Başak Tosun and Zafer Batık informed EUL students 
The Wikipedia training program organized by the European University of Lefke (EUL) Engineering Faculty was held with the participation of the members of the Wikimedia Turkey User Community and the authors of the digital encyclopaedia Başak Tosun and Zafer Batık.
Guest Wikipedants made a detailed presentation about Wikipedia which has become one of the indispensable information sources of the virtual world, and prepared in many languages; a free, independent, free, ad-free and non-profit internet encyclopaedia.
First of all, Başak Tosun gave general information about the history of Wikipedia, its functioning, development, the languages ​​in which content can be created and data management. In the continuation of the presentation, Wikipedia informed the participants about the principles of content creation, content accuracy and ethics. She pointed out that Wikipedia works entirely on a voluntary basis and is a source of information that develops and updates itself every minute.
In the last part of the training, Wikipedian Zafer Batık shared the numerical statistics of Wikipedia users and shares with the audience. He presented the technical aspects of the platform, such as accuracy and referencing, to the information of the participants in a practical way. Batık completed his presentation by modifying an English and Turkish Wikipedia content.
In general, this activity contributed to the development of students' skills such as writing, translating, and critical reading. In addition, the contribution of digital encyclopaedia resources such as Wikipedia to the general readership with rich content, with the contribution of students, to the culture of accurate sharing of information was examined.