"Zambia Independence Day" celebrated at EUL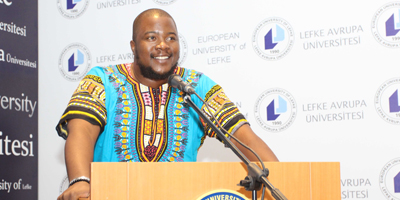 "Zambia Independence Day" aimed at Zambian students receiving education at EUL was organized by European University of Lefke (EUL) Centre of Social and Cultural Activities and International Student Club.
Zambian Students celebrated their National Day with enthusiasm
In the event which was held at the EUL Rauf Raid Denktaş Conference Hall with an intense participation, various video and film presentations about the cultural and geographical characteristics of Zambia took place. Also overnight, Zambian traditional dishes and regional clothes were introduced. Zambian students, who performed and danced to their country dances, celebrated their national days with enthusiasm.
Different cultures fused at the Zambia Night
Students, who were happy to come together on Zambia Independence Day, had the opportunity to meet and fuse together with their fellow students from different cultures.