"Zambia Independence Day" celebrated at EUL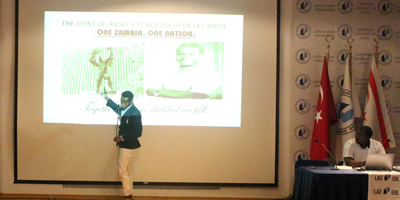 "Zambia Independence Day" organized by European University of Lefke Students' Dean Office was celebrated with various activities at EUL Rauf Raif Dentaş Educational Complex Conference Hall.
The staff of EUL Students' Dean Office and External Relations Directorate and students attended to the organization. The event started with the singing of the national anthems, giving information about Zambia's history, video displays, speeches about meaning and importance of the day. The event was completed with cutting the cake made for the event.
Zambian students expressed their feelings about Independence Day and their thoughts about the importance of the day as follows;
Lucky Mccallum: I am second grade student in the Department of Business Administration. It is an honor for me to introduce our culture and our national day to our friends from other countries. I am very happy that our university has provided us with these opportunities.
Jacob Mutale: I am a freshman in the Department of Software Engineering. This is my first year in Cyprus. Celebrating my own culture in another country made me feel different. I was very glad to be with my friends on such a day and to celebrate this important day at our university. We live far away from our own culture, and it is especially important for us to celebrate such emotional days.
David S. Hachoonça: I am a first year student at the Department of Economics. EUL gives us the opportunity to celebrate our special days and to introduce our culture to our friends who participate in the event. First of all, I would like to thank European University of Lefke for providing us with such a possibility. I hope that organizations like this continue in the next academic year and we can do different activities.
Kabamba Mpundu: I am a second grade student in the Department of Architecture. First of all I would like to thank EUL administration. In this particular day which is Zambia's Independence Day, the struggles we gave to declare our independence comes to my mind.