"Strategic Planning" was talked at EUL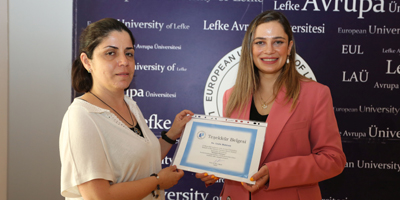 European University of Lefke (EUL) Faculty of Economics and Administrative Sciences hosted Leyla Mahrum as part of the conferences organized by the Department of Business Administration.
Leyla Mahrum, who works as a professional business consultant in the Innovative Entrepreneurship Project at Northern Ireland Cooperation Overseas (NI-CO), financed by the European Union, spoke on strategic planning at the seminar organized for the students of the Faculty of Economics and Administrative Sciences.
Mahrum gave practical information on a strategic plan by explaining the vague but enthusiastic concept of strategy. During the seminar, in which the types of methods and analyzes required while drawing the strategic plan were explained in detail, Mahrum emphasized the importance of strategy as a guide and roadmap to gain sustainable competitive advantage against competitors. The seminar was held interactively and was completed with a question and answer session.