Turf Field Inspector of Turkish Football Federation and UEFA Turf Specialist was the guest of EUL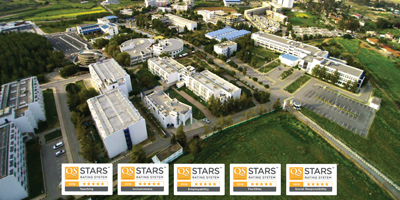 "Establishment and Maintenance of Grass Fields" was discussed at EUL
European University of Lefke (EUL), Faculty of Agricultural Sciences and Technologies held an online event on "Establishment and Maintenance of Grass Fields: Football". The event was moderated by EUL Faculty Member Assist. Prof. Dr. Serhat Usanmaz, and Turkish Football Federation Turf Field Inspector Dr. Tuğrul Hocaoğlu and UEFA Turf Expert and Director of International Field Maintenance Manager Dean Gilasbey contributed the event with their presentations.
"Synthetic grasses and natural grasses are used together in hybrid fields"
According to the information given by Assist. Prof. Dr. Serhat Usanmaz, Dean Gilasbey mentioned in his presentation that the grass pitches should be at the same quality standards throughout the year and the difficulties of ensuring this. Gilasbey mentioned that scientific studies are constantly being carried out to make the grass resistant to activities that cause serious pressure on the grass, such as football. Gilasbey mentioned that hybrid fields have become more common in recent years. Pointing out that synthetic grass and natural grass are used together in hybrid fields, Gilasbey emphasized that this method is more successful in terms of both visual and durability. Gilasbey mentioned that they conduct inspections in many countries, where football is among the most important sports branches, and that they conduct an annual average of 50,000 samples in these inspections.
Speaking later, Dr. Hocaoğlu listed the factors affecting success in turf fields as follows:
•Weather
 Precipitation
Temperature
Soil structure
Type of substrate
Topographic structure
"Grass fields should be maintained regularly and correctly"
Stating that it is very important to carry out the regular maintenance as well as the correct installation of the turf fields, Hocaoğlu emphasized that these maintenances should be done in different ways in wet and muddy fields, dry and grass-free fields and in the fields where the host advantage is. Talking about the importance of mowing in maintenance, Hocaoğlu talked about the most important mistakes made in maintenance after explaining the reasons for mowing, machine size of mower types, cutting height, cutting frequency, collection of residues, cutting direction and ground wetness. Stressing that fertilization, ventilation, sandblasting and disease-pest control are very important in annual maintenance, Hocaoğlu also mentioned that these practices differ in different climate and soil conditions. Hocaoğlu also mentioned that underfloor heating techniques are extremely beneficial, especially in cold and snowy climatic conditions, and pointed out that these benefits include keeping plant roots warm, ensuring the uptake of plant nutrients and preventing plants from freezing.
After the presentations, the question/answer session started, and especially in Mediterranean climate conditions, varieties that can be suitable for both hot and cold weather conditions (summer and winter) were emphasized. In this context, it was mentioned that paspalum is used more.
Both speakers emphasized the importance of professionalism in the establishment and maintenance of grass fields, which are known to have extremely important effects on both the health of the athlete and the performance of the game. It was mentioned that maintenance works should be followed within the framework of a regular program in the fields and that the resources to be allocated in this direction would have great returns.