2017 – 2018 Academic Year Graduation Ceremony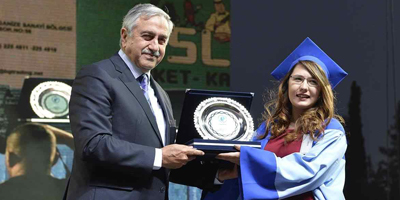 Graduates of 25th term received their Diplomas
European University of Lefke's (EUL) 2017-2018 academic year graduates received their diplomas at the ceremony organized on 28th June 2018. The ceremony started with graduates taking their places, a moment of silence, the Turkish national anthem and opening speeches at Lefke 16 Ağustos Kurtuluş Stadium at 19:00.
President of the Turkish Republic of Northern Cyprus Mustafa Akıncı, Minister of Education and Culture Cemal Özyiğit, Minister of Tourism and Environment Fikri Ataoğlu, some members of parliament and parents of the students attended the ceremony. This year EUL graduated 415 students from associate programs, undergraduate programs and post graduate programs.
After a moment of silence for the Great Leader Atatürk, martyrs and decedent academicians, the ceremony continued with the speeches.
Akıncı: I congratulate all of you with all my heart and soul on this special and pleasant day.
President of T.R.N.C Mustafa Akıncı said that, "Dear youth, valuable guests, and families, I would like to start my words by expressing the happiness I have for you on such a special occasion" and congratulate the students with all his heart and soul. In his speech, Akıncı emphasized that in the sense of graduation, graduates will take on new responsibilities and will enter a new era where all responsibilities related to their lives will be on their own shoulders.
Giving advice to the students, Akıncı recommended students to search, analyze and evaluate the events in the light of science and not to accept events with their eyes closed. President Akıncı issued a call for the newly graduated youth to concern themselves about the social problems and said that, "None of us can be happy as a single individual, but if we are in solidarity with the society in which we live in and as our society develops, we get all our share and we become part of that happiness as we grow".
Akıcı also addressed the foreign students and said that, "I wish that you will always feel at home here. When you leave here, I hope you will not forget this beautiful part of our country especially those of the lovely people of Lefke. I hope to see you in our island again". Akıncı wished success to all of the graduates in the new era of their lives.
Özyiğit: EUL has a great impact on the development and recovery of Lefke
Minister of Education and Culture Cemal Özyiğit said that, "Dear youth, you have set on a hope journey from different parts of the world in order to shape the future in the best possible ways and you came here. I believe that you are leaving from Cyprus with the best education" and wished success for all of the graduates.
Özyiğit said that "No doubt that EUL has a great impact on the happiness and welfare of the locals, improvement of the economic and social life, development and recovery of Lefke, this divine city where the Troodos Mountains and Mediterranean meet". Özyiğit also pointed out that productivity of the region is also under favor of EUL and added that by this means the region develops and grows day by day.
Özyiğit said that, "Dear youth, I believe that with the training you have received at EUL which has been developing and growing rapidly in recent years, you will make very important, meaningful contributions to the economic and social development of your own countries. I have a faith in the fact that students from Turkey, 3rd world countries and Cyprus will represent our country in the best possible way" and congratulate the students and their families.
Şekerli: EUL leads the change and development of the higher education body of the T.R.N.C
Making a speech on behalf of the Board of Trustees, Mehmet Şekerli underlined that they are experiencing the pride and happiness of graduating the students for the 25th term and added that EUL, which has been leading the change and development of the higher education body of the T.R.N.C, has taken its place as a model educational institution with its strengthened academic staff, number of students continuing to increase rapidly each year, the newly opened faculties/schools and its departments and its rising success rate among TRNC's universities.
Şekerli said that, "Sharing your excitement in such special day made us so happy. I wish you, our beloved students success in your lives and I congratulate all of you for your graduation on behalf of our university. All the best."
Yükselen: We have worked with all our strength and potential for your dreams to come true.
Prof. Dr. Mehmet Ali Yükselen, the Rector of EUL started his speech by indicating that they are having a happy and honourable day and addressed the families by stating that, "You have entrusted us with the children you raised with great devotion. We have made the best of what we can in order to ensure the happiness of your children. We have worked with all our strength and potential for your dreams to come true".
Yükselen said that, "As the European Univeristy of Lefke, we maintained our stable development in the direction of our goals by being aware of the fact that yesterday has gone and we have produced today with determination and strenuousness" and added that for the first time in the history of the university they have become the 2nd most preferred university of T.R.N.C according to the results of Undergraduate Placement Exam (LYS). Yükselen also pointed out that the number of the students have reached to 11.000 in the last academic year and added that they have received approval from the Higher Education Planning, Accreditation and Coordination Council (YÖDAK0) and Higher Council of Education (YÖK) for the program of Dentistry. Yükselen stated that, in order to keep the development of EUL sustainable, they are proceeding their accreditation processes in a determined way and added that many of the programs of the university are accredited by ASIIN, FIBA, Association for Evaluation and Accreditation of Engineering Programs (MÜDEK) and Architectural Accrediting Board (MİAK).
Yükselen also addressed the graduates and said that, "Today I am bidding you farewell with the sadness of separation but also with the pride of knowing that we have trained you as contemporary individuals who use science and technology, who are democratic, respectful of human rights, virtuous, able to produce solutions, investigate, question, depend on ethical values and national values, do not leave science and mind guiding, can work in every country of the world". Yükselen congratulated students for their graduation and wished them a life full of health, happiness, success and hope.
Top student of the Dr. Fazıl Küçük Faculty of Education Tuğçe Erparun and top student of the Faculty of Architecture Alain Christel Mizero made speeches on behalf of the graduates and stated that they are expriencing the pride and happiness of graduating from an univeristy which offers modern and high quality education at a global level and thanked EUL familiy which made them important contributions so that their future experiences can be directed, idealized and fulfilled.
After the speeches the  diplomas were presented to the students. The ceremony ended with the graduation cocktail party after cap throwing which all students have been waiting for all of their lives and fire works show.