"2nd International Healthy Life with Domestic Products" days started at EUL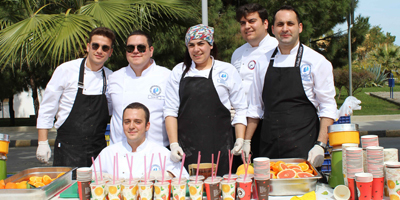 Domestic Products were promoted with Fresh Orange Juice
Domestic Products Festival which was organized with the aim of increasing the interest of students on domestic products was held at EUL Plaza Area and Faculty of Health lawns within the scope of European University of Lefke (EUL) "2nd International Healthy Life with Domestic Products" days.
Within the scope of the festival, navel oranges, grapefruits and mandarins produced at universities Research and Application farm, and freshly squeezed oranges by the students of Gastronomy Department were offered to the students.
Students expressed their thoughts on the organization as follows;
Burak Yılmaz:  I am a third year student in the Department of Nutrition and Dietetics. It is so good to be here. I am pleased that such organizations are taking place on the campus. I would like to thank the university for this activity.
Demirhan Eren: This is my third year in EUL. We are very happy to be offered fresh orange juices prepared by our friends from the Gastronomy Department. The increase of these events together with the spring makes us happy.
Berat Yüksel: I am from Ankara. It is extremely important for us, as the students, to be able to continue such activities that have become traditional in our university. Today we drank freshly squeezed orange, tangerine juice as refreshments. I would like to thank our university.
Ceren Özbayrak: The activity is very good, we eat healthy thanks to this activity. We were very pleased with my friends. We are very happy to see that our university is the pioneer in such activities.
Merve Bebek: I am a 3rd year student in the Department of Interior Architecture. Organizations like the presentation of local products and various cultural tastes, and barbeque parties shows the difference of out university. What I'm trying to say is our university is awesome.
Sevgi Güzel: I am a third year student in the Department of Pre-school Teaching. I am very pleased that our school thinks of us and organizes such activities frequently.
Hakan Mert Gündağ: I am a student in Department of Physiotherapy and Rehabilitation. This is my first year in EUL. Organizing events similar to this, adds liveliness to the university.
Osman Yürüyen: I am a second year student in the Department of First and Emergency Aid. These kind of activities organized by our university brought us close together and we had a great time. Thank you EUL.
Ferhat Karadaş: I am a student in the Department of Guidance & Psychological Counseling. Thanks to these activities, we come together and have a good time.
Tolga Güler: Orange Festival makes us excited. This is a good activity in terms of gathering and meeting of the students. I wish that these kind of activities would continue to be held.