A Trip to Lefke organized under the framework of EUL Orientation Week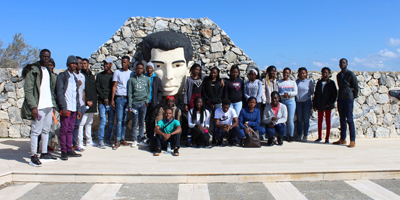 The orientation program aimed at the foreign students who enrolled to the university in the 2018-2019 Academic Year Spring Term which is organized by the European University of Lefke (EUL) is proceeding with many lively events.
Within the context of the Academic Year Spring Term orientation week, foreign students were introduced to the historical and cultural sites of Lefke
Trips which are organized within the context of the 2018-2019 Academic Year Spring Term orientation week have started with a trip to Lefke with the aim of facilitating students' adaptation to the university and the TRNC, providing a pleasant time and promoting the beauty and cultural values of the region where they live.
Students had the opportunity to get to know Lefke and its surroundings with a guide
The trip program organized to Lefke and its surroundings included visiting the Soli Ruins, Gemikonoğı Pond and Cengiz Topel Monument. By the means of the trip, the students of eul received detailed information about the historical, natural and cultural places of Lefke.