Agriculture's Past, Present and Future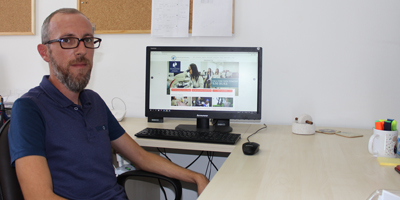 European University of Lefke (EUL) Faculty of Agricultural Sciences and Technologies, Department of Horticulture Production and Marketing Faculty Members Assist. Prof. Dr. İbrahim Kahramanoğlu and Asst. Prof. Dr. Tugut Alas made statements on "Agriculture's Past, Present and Future".
"The basic (biological) needs of human beings consist of sun, heat, oxygen, water and food. Of course, other sources such as soil, nutrients and carbon dioxide are needed for the production of vegetable and animal food. In fact, together with housing, energy, communication and internet are among our indispensable sources. However, when we look at the history of humanity, it is seen that water and food, which are more limited than 5 basic biological needs, are of great importance and that humanity is constantly pursuing water and food, "Kahramanoğlu said. He also stated that the way to access and use of these resources is very important in the rise and fall of many empires and countries.
He stated that, contrary to the rapid increase in the world population, the decrease in the quality and quantity of primary needs such as soil and water used in production directed human beings towards alternatives.
 Kahramanoğlu listed global targets as follows;
Development and / or adaptation of high-yielding and nutritionally      rich varieties.
Development and / or adaptation of varieties resistant to stress      conditions (drought, salinity, temperature).
Improving irrigation and fertilization efficiency with automatic      applications specific to the plant and the area.
Reducing the pressure on the soil with soilless agriculture and      similar applications
Prevention / reduction of post-harvest losses.
Agriculture 4.0 (smart farming): Automatically calculating and      applying the inputs needed in production according to plant needs and      environmental conditions, thanks to the integration of internet      technology, smart sensors and mechanization.
Alas: natural balance, agricultural biotechnology and smart agriculture for sustainability in agriculture should develop in the fields
Alas, underlining that agriculture must always exist and be present in human life as it is today, stated that it is necessary to proceed in the fields of natural balance, agricultural biotechnology and smart agriculture for sustainability in agriculture.
"Inorganic fertilizers, pesticides and similar chemical medicines, which were used with the Green Revolution in the 1960s in agricultural production, pollution started in natural resources as a result of cultivation techniques", as a result of this, while biodiversity in nature is decreasing, many species are extinct or threatened with extinction. Alas stated that agricultural biotechnology has started to be used in the scope of developing diseases resistant to diseases and pests in order to reduce the use of chemicals and prevent their negative effects on the environment, especially in the fight against diseases, pests and weeds.  Alas also stated that, instead of giving up monoculture and growing the same species in the same area, cultivating different species by rotation will prevent disruption of the natural balance that will occur in that area, He said that it is compulsory to use the resources, like water, which has great importance in agricultural production correctly.
Alas mentioned that, the necessity of using the resources correctly and the application of modern methods for a sustainable agricultural production and natural balance should be determined according to the data to be obtained as a result of scientific researches, what kind of plant will be the optimum water requirement and what the correct irrigation method will be, and which species will be concentrated in the light of these data.
Finally, Alas suggested, "The most important need for human life to continue is food. Agriculture, which provides the production of these foods, has an important place today as it was in the past of humanity. It is clear that agricultural production will continue in the future. The most important point to be considered in this context is to determine the natural, cultural, sociological and economic changes that are foreseen in the future as in the past and to shape the agricultural production in the right conditions. "