All Rectors of EUL who have served EUL until its Established came together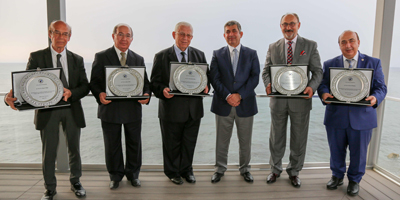 European University of Lefke, which started to offer education in 1990 and led the development with the change in higher education in Northern Cyprus has reached its 30th year with its strengthened academic staff, rapidly increasing number of students and newly opened faculties / schools and programs. During the 30th Anniversary event of the European University of Lefke, the rectors who have served in the university since the foundation of the university have been the guests of EUL.
The former rectors of EUL Prof. Dr. Haluk Kabalioğlu (1995-1996), Prof. Dr. Mesun Ayan (1998-2002), Prof. Dr. Yıldırım Öner (2002-2006), Prof. Dr. Ali Rıza Büyükuslu (2006-2008) and Prof. Dr. Ahmet Bülend Göksel (2010-2013), who were invited to the university within the scope of the documentary film, which started to be shot in memory of the 30th anniversary of the university and which will have an important archive value about the history of the university, visited the university and received information from the EUL Rector Prof. Dr. Mehmet Ali Yükselen about the current situation of the university. The program continued with campus visits and documentary shots, and at the end of the program rectors gathered at the university's social facility EUL Lounge for dinner in their honor.
Rectors appreciated the development of the university
Former rectors who came together under the framework of the program thanked the Rector Yükselen for his kind invitation and that they were trying to make their contributions to the university in this special task they had undertaken during the years they served. They also emphasized that the this position is a relay race and under the leadership of Rector Yükselekn, who took over this position, the point that the university had reached as both academic and infrastructure facilities was extremely important and proud. During the campus tour visits, the rectors, who had the opportunity to see the change and development of the university on site, stated that the academic and social opportunities offered by the university students today were really praiseworthy and they expressed their happiness for the great development of the university.
EUL Rector Yükselen expressed his gratitude to the rectors who accepted the invitation of the university despite their busy schedules. He stated that the documentary, which was started to be shot, will record the history of the university and that they attach great importance to this project which is held within the scope of the 30th anniversary of the university. At the end of the event, Yükselen presented a plaque to the former Rectors for their valuable contributions and services to the university.