"Anger Management and Control" examined at EUL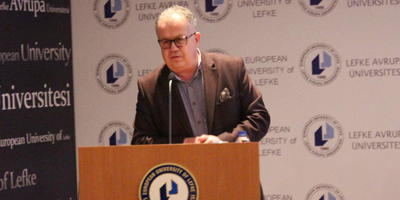 Psychologist and author Ali Orhan discussed anger management in detail in the meeting themed "Anger Management" organized by European University of Lefke (EUL) Student Deanery and Psychological Consulting and Guidance Club.
Orhan: Anger is an emotion that should be felt, not a behavior
Orhan described the concept of anger as a natural, human-like, emotionally controllable feeling that is considered normal at a certain level. Orhan said that "Anger is an emotion that should be felt, not a behavior. Anger usually manifests itself in reactions to the individual or object seen as the cause."
Orhan stated the types of anger as repressed, learned, and aggressive and added that the signs of anger are direct behavioral signs (physical and verbal aggression, extreme criticism, fault finding) and direct verbal and cognitive signs (skeptical and accusatory words), obscure behavioral and verbal signs (insecurity, jealousy) and indirect behavioral-verbal signs (depression, guilt, crying).
Orhan listed the essential principles of anger managements as;
If the subject is important for you, you should talk about it.
Take time to think about the problem and clarify your position
Avoid communication problems
Use body language
Do not make unclear statements
Accept the fact that everybody is different
Do not enter discussions that do not have any consequences
Accept that every individual is responsible for their behaviors
Do not tell someone what to think and feel or what they should think and feel
Avoid talking through a third party
Orhan pointed out that the reasons of anger are the loss of fear, threats, frustration, failure to make mistakes and loss of personality, and obedience to orders and sanctions. Pointing out that anger has, physiological, mental, emotional and behavioral consequences, Orhan said that the righteous expression of anger leads to physical and mental problems.