"Anger Management" workshop organized at EUL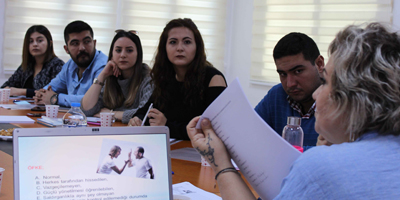 European University of Lefke Faculty of Health Sciences Department of Social Services organized a workshop themed "Anger Management". In the workshop leaded by Head of Social Services Department Prof. Dr. Şengül Hablemitoğlu, participants whose profession includes family related activities, who completed the course of this filed and who are still receiving education had the chance to get informed about anger and anger management techniques.
Hablemitoğlu described anger as the negative emotion that is felt in conditions such as blocking, aggression, threatening, deprivation, restriction and which generally results with the aggressive behaviors towards the cause or the person. Hablemitoğlu explained the aim of anger management as the ability of the person to express their anger in a correct way without harming themselves and the environment and without turning it into an aggressive behavior.
It is intended to prevent someone from harming the environment in the transfer of the anger
While giving information about the workshop, Hablemitoğlu said that "It is intended to make the participants understand the reasons for anger feelings, to discuss the anger management techniques and to recognize the need for behavior change in the expression and control of anger sentiment. In this process, it is ensured that the individuals know their own personal characteristics and the environmental features in order to be informed about controlling themselves," Hablemitoğlu pointed out that the aim of the workshop is not to eliminate the anger completely, but is to prevent the person from harming the environment in the transfer of the anger, and to prevent the nerve and the anger from turning into aggressive behavior.
Talking about the content of the workshop, Hablemitoğlu stated that the causes and sources of the anger, the health effects of the anger, the consequences of the uncontrollable anger, and the anger management techniques, and that added that at the end of the workshop, young people gain awareness of the ability to control anger feelings.