"Arts and Communication Exhibition" opened in EUL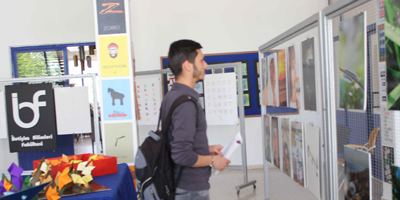 "Art and Communication Exhibition VI" was realized by European University of Lefke (EUL) Faculty of Communication Sciences Department of Visual Communication Design. EUL Faculty of Communication Sciences Lecturers Zühre Özer, Gamze Anıl and Naciye Derin Işıkören organized the exhibition on behalf of students of the Visual Communication Design Department at the Faculty of Communication Sciences Faculty.
Within the scope of "Art and Communication" exhibition, visuals prepared within the scope of Illustration, Typography, Basic Design 1-2, Visual Communication Design 1-2-3-4-5-6 courses were exhibited.
"Through the exhibition, students can see each other's work, compare it with their own work, and they can develop themselves according to the comments from the others, so this contributes to their success," Özer said.
Anil, on the other hand, stated that she was very pleased that the students made an effort with his friends while preparing the exhibition and that each student had to do the project separately, but that they were willing to prepare it all together enthusiastically.
Işıkören said that the aim of the exhibition is "to gather the students' knowledge from the first grade until the fourth grade and to present the projects they have done and to express what visual communication design is to the individuals participating in the exhibition".
The exhibition will be open to visitors between the dates of 11-12 April 2017.