Atatürk Commemorated at EUL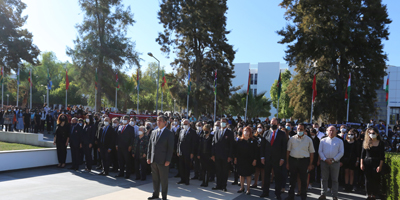 The European University of Lefke (EUL) Faculty of Arts and Sciences organized a commemoration program for the 83rd anniversary of the death of Gazi Mustafa Kemal Atatürk, the Founder of the Republic of Turkey. University administration, faculty members, administrative staff and students attended the commemoration program held in front of the Atatürk Bust in the EUL campus at 09:05.
The commemoration program, which started with Rector Prof. Dr. Mehmet Ali Yükselen laying a wreath on the Atatürk Bust, continued with a moment of silence and the National Anthem.
In the program, Head of the History Department of the Faculty of Arts and Sciences, Assoc. Prof. Dr. İhsan Tayhani's speech on the meaning and importance of the day was also included. In his speech, Tayhani said, "Dear Rector, dear students, we are in the spiritual presence of Great Atatürk as part of his 83rd death anniversary. The love and respect towards him is growing and increasing in an unprecedented way both in the Turkish world and in the whole world, 83 years later. However, it is also known that the depth of love and respect become ordinary if there is no justification. In that case, at the commemoration meetings on November 10, Tayhani started his words by saying that the depth of love for Atatürk should be examined and the reasons for respect for him should also be reviewed. It should be known that it is a life that includes the drama of transition from a "Saltanate-Caliphate" regime, which is going through the stages of collapse and disintegration, and has largely lost its traditional principles, to the "National Republic State" regime.
Tayhani continued his words as follows; As we get to know the drama that covers this life in question, we can grasp the essence of the thought system that he left behind, called "Ataturkism" or "Kemalism".
There are important peaks in the life walk of Gazi Mustafa Kemal Atatürk. Let's take a look at them briefly;
• As a young officer who is sometimes in search of him;
• As a "promoter", sometimes influencing those in higher positions;
• Sometimes as a supreme commander who fought on various fronts of an empire;
• Finally, we see him as a statesman who brought a completely self-confident, well-equipped, brand new state concept and laid the foundations of that state, and as a great revolutionary who fit the ages in his short life with the revolutions he realized.
Undoubtedly, these peaks should be opened separately. This kind of work has been done, is being done, and will be done in the future. He is also an influential intellectual and thinker.
The number of books in Atatürk's private library, which he created alone, is 4289. These books take place in a wide range from military to history and literature, from language to civilizations, from sociology to psychology, from philosophy to economics. In most of the books, the lines are sometimes underlined with red and sometimes blue pencils, and marginal notes symbolizing the words "important, very important, attention" are written.
He says, 'If I hadn't spent a penny of my three cents on books when I was young, I wouldn't be able to do any of the work I do today.'
Apart from being a very good reader, one of the least known aspects of Mustafa Kemal Atatürk is his writing. He is the author of 14 books, two of them on the military field and translation from German. The most original among them is the book "Geometry". He wrote this book in Dolmabahçe in the winter of 1936-1937.
"Triangle" instead of Müselles, "square" instead of murabba, "area" instead of surface, "line" instead of line, "section" instead of external part, "cross" instead of zarb, "multiplier" instead of mazrûb, instead of circle. "circle", "subtraction" instead of bearing, "denominator" instead of origin, "tangent" instead of calligraphy, etc. He is the one who brought the concepts into Turkish.
Today, millions of Turkish children or young people continue to learn positive sciences, unfortunately, with the concepts Atatürk introduced into Turkish and without knowing that Atatürk was the person who introduced these concepts to Turkish.
These are some of the reasons why the love and respect towards Atatürk is increasing day by day after 83 years. It should not be forgotten that there are many more important reasons that go beyond the scope of this short talk.
Tayhani concluded his speech as follows; Dear Rector, dear students, we commemorate the Great Atatürk, to whom we owe everything, which is mentioned or not mentioned in this speech, but to whom we owe everything, on the 83rd anniversary of his passing into eternity, loaded with gratitude, with respect, love and longing, to him, to the republic. We wish God's mercy on his companions, who persevered on the grueling road stretching out and on the mortar of the republic, and on the sons of the martyred motherland who lost their lives for this cause.