EUL Architecture Faculty 1st year students started their design journey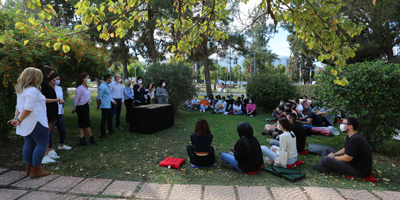 First year architecture students who joined the EUL family in the 2021-2022 fall semester met with faculty members. Students who started their second grade this year also attended the meeting and shared their online education experiences during the pandemic period. In the meeting, which took place in a friendly environment under the tree at the entrance of the faculty building, Dean of the Faculty of Architecture Prof. Dr. Lerzan Aras made the following statement:
"We are all getting rid of the weight of the 1.5-year pandemic period that we have been away from our students. While we are transitioning to a new order with hope and excitement, we came together to introduce ourselves to our students who will start their education this year, to answer their questions and to tell a little about their design journey. Design is a long but exciting journey. It is a pleasure to discover an unknown every day. As all faculty members, we stand by our students in this process. Considering the pandemic conditions, we plan to start our face-to-face design activities soon, paying attention to the mask-distance rule."
At the end of the meeting, a sketch book and a drawing pen, which are one of the most basic tools of design education, were presented to all participating students, and they were wished success for their new journey.