Attention was drawn to the concept of "Justice" on Human Rights Day at EUL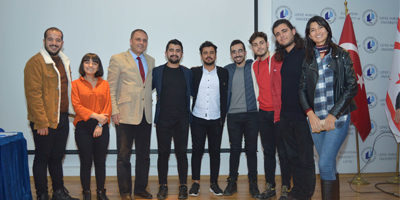 European University of Lefke (EUL) Law Club organized a conference themed "Human Rights Day".  Academician of EUL Faculty of Law Assist. Prof. Dr. Emrah Kırıt attended the conference as a speaker.
Kırıt:  The basis for all people to enjoy their freedom is possible within the public order
Kırıt said that "As the people of the universe, we consider December 10 as an occasion to remember our sensitivity to Human Rights. There is no doubt that human is an important part of nature. Just as there is a great order in the integrity and balance of nature, there is and should be a balance in human relations with family, society and states. While observing the social, economic, legal and political events that we have experienced, we see the various negativities that we encounter every day and draw various conclusions from them for ourselves. For example, when we remember 47 people who went to see a sporting event in Istanbul on Human Rights Day three years ago, and who lost their lives in a bomb attack against law enforcement officers who were there to ensure their safety, we remember them with mercy. Naturally, this and many other incidents cause us to worry about the current state of human rights and our future". He further stated that every experience should also lead us to think more and to put more effort into the concepts of rights and freedoms and the importance of providing them.
Kırıt: The sense of justice and fairness are feelings that are inevitably part of us
Kırıt also said that "While every negative development that we have witnessed in human rights makes us sad, we should not forget that we as human beings are unique creatures on Earth. Undoubtedly, all living and inanimate beings in nature are useful actors of natural life. They perform the behaviours they need to do using the characteristics of their species. However, the progress of primitive civilizations of human beings in the natural life until today should never be underestimated. We care about this point which we have reaches from the most primitive to today's social life" and added that the sense of justice and fairness are feelings that are inevitably part of us.
Kırıt went on to say that "Our civilization is the voice that comes from our conscience in the face of violations of the right to life, material spiritual existence, expression, belief and many other freedoms. Today, when a child is abused, murdered, and a mother has suffered, there is a great outcry within us. That voice is, in fact, separate from wildlife; the right to injustice, life against death, human justice and civilization that we have established as the voice of freedom against harassment is the voice of the high character of us humans" and added that these sublime feelings we are carrying today, make sure that the ideal of human justice is the emotions we carry through the civilization that we crown and build upon our existence despite all the negativities experienced in history.
Kırıt finally said that we should not forget that on Human Rights Day and every day that human beings are as respectable as all respectable beings in nature, we should live for more beautiful and brighter days despite all deficiencies, and mistakes.