Awareness project towards nature from EUL students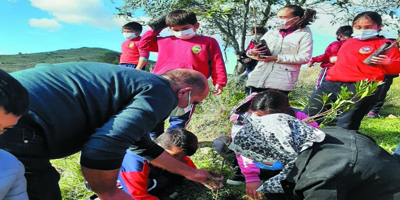 European University of Lefke Dr. Fazıl Küçük Education Faculty Psychological Counseling and Guidance Department carried out a community service project on "Little Children Discovering Nature". The project was carried out by EUL students Eylem Kına, Esra Arslan, Ezgi Dağ and Rukiye Capuk, in cooperation with Yedidalga Primary School, Güzelyurt Ministry of Forestry.
The event, which was held for the first grade students of Yedidalga Primary School, aimed to inform the students about nature, to develop positive behaviors towards nature and to be intertwined with nature.
Tree planted with children
Students who gave information about the project conveyed the following; Our aim in choosing this project is to get children away from computer games, phones and tablets, in short from technology, to make them intertwined with nature and to make them love nature. There are many beauties to be discovered in nature and one of our goals in the project was to enable students to discover nature. In addition, we planted trees with children by raising awareness to raise new generations who act with environmental awareness against nature and tried to give life to nature.