Awareness Projects from EUL Students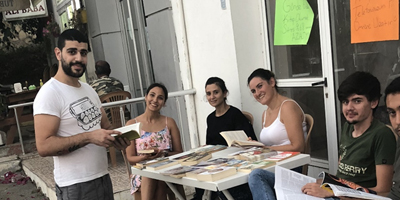 Students of European University of Lefke (EUL) Dr. Fazıl Küçük Faculty of Education conducted many successful social responsibility projects and set an example with their projects titled "Fight against Bugs", and "Encouragement to Read Books" within the scope of their Community Service Practices course and with the leadership of their course instructor Asst. Prof. Dr. Özcan Palavan.
Palavan stated that, in the "Fight against Bugs" project which was conducted with the aim of protecting the pine trees located on the university road from insects and pests, preventing the cracks that will occur in the trees, and providing night views and taking care of them, students worked in a devoted way. Palavan emphasized the fact that, a pine tree can absorb dust up to 100 kilos and produces oxygen in the same amount. Palavan stated that preserving the pine trees around the university where a busy population lives is extremely useful and added that they will try to give priority to projects aimed at increasing the number of trees in the future. Palavan also emphasized that it is extremely important for students to demonstrate exemplary behaviors with environmental awareness.
Furthermore, with the project titled "Encouragement to Read Books", student set up three different booths in different areas of Lefke region with "Read Book for 6 Minutes a Day Reduces Stress by 68%", "Reading Book Increases Battery Life of Your Phone" and "Read a Book" slogans. Palavan pointed out that student's activities that encourage reading will continue.