Blood Donation Campaign Organized at EUL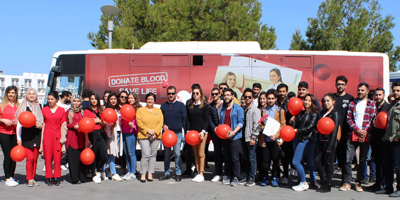 152 Units of Blood Donated
European University of Lefke (EUL) Office of Students' Dean and the Turkish Red Crescent organized a blood donation campaign. The campaign took place in front of Health Sciences Faculty and Dr. Fazıl Küçük Faculty of Education buildings in two different days and it was conducted in a Blood Donation Bus.
Tutku: T.R.N.C is in need of Twenty Four Thousands Units of Blood                    
Giving information about the campaign Turkish Republic of Northern Cyprus Red Crescent Trainer Şerife Tutku said that, "We are trying to incorporate blood donors across universities in the TRNC in the context of a regular and safe blood donor acquisition program. We invite participants to donate blood with information presentation,". Tutku stated the purpose of the campaign as, emphasizing the importance of blood donation, informing participants about the phases of blood after donation and encouraging people to donate blood and raising their awareness on the matter. Tutku said that, "Our country is in need of twenty four thousand units of blood. Thirteen thousands of the need is met with replacement. But this is not a method that we prefer. In terms of blood safety, the safest blood donations are made by regular donors, and World Health Organization considers this to as the most reliable,".  Tutku stated that, in this context they have made educational presentations and organized blood donation teams in many places not only in universities but also in primary schools, junior high schools and non-governmental organizations throughout the island.
Yavuzer: EUL Red Crescent Club raised awareness on blood donation
EUL Red Crescent Club President Nazlıcan Yavuzer stated their purpose in the establishment phase as, raising awareness of blood donation which is the most important aim of the Red Crescent and informing people and added that "For this reason, we contacted the Red Crescent authorities and they send Red Crescent team for blood donation to our university,". Yavuzer thanked the Office of Students' Dean, Özgür Yılmabaşar, who has helped the activities of Red Crescent, to the advisor of the club Assist. Prof. Dr. Çağda Çağanağa and her volunteer student friends. Pointing out that at the end of the three days of donation they have gathered 152 units of blood and added that "We would like to thank everyone who supported our awareness and donated blood. In the coming days, we plan to carry out new activities for the sake of humanity, under the leadership of our Red Crescent Club, which supports health and social solidarity".