Blood Donation Campaign Organized at EUL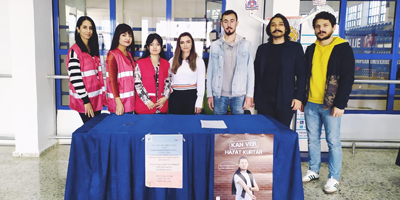 European University of Lefke (EUL) Red Crescent Club, Nurse Club and Young Leaders Club and the Department of Psychological Consulting and Guidance organized a blood donation campaign. Volunteer students and EUL staff participated in the blood donation activity held all day in EUL Health Unit.
Uçar: As EUL Red Crescent Club Management, we are very willing and excited
Giving information about the event, the President of the Red Crescent Club said that "Blood Donation Campaign is organized every year by the Red Crescent Club. As EUL Red Crescent Club Management, we are very willing and excited. We want to increase our blood donation unit numbers. Today, the Red Crescent Team had a limited number and the number of units that could be collected was 40. However, the number of students who visited our booth and wished to make contributions was high. This makes us happy and shows how sensitive our fellow students are. The next Donation Campaign will take place in Spring 2020. We are sure that more units will be collected. Today there were dozens of students visiting our booth and student communities supporting the organization. The most important example of this is that our friends in PCG Department supported the term projects by contributing to our campaign. They offered drinks and desserts to our fellow students who donated with the slogan "Saving Life is in Your Blood". I would like to thank all students who contributed".