Buldanlıoğlu: Priority should be given to elderly tourism, especially in Lefke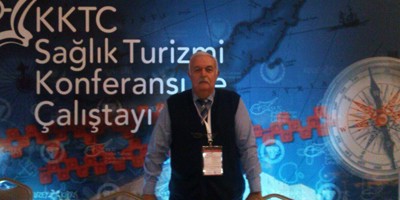 Nazmi Buldanlıoğlu, a lecturer at the Higher School of Tourism and Hotel Management of European University of Lefke (EUL), gave a presentation entitled "Advanced Tourism in the TRNC Health Tourism Conference and Workshop" organized by the Ministry of Health under the realization of TRNC Health Tourism Council.
Buldanlıoğlu said that Cittaslow region should be given priority to elderly tourism, especially to Lefke, and to richness of flora and fauna in the island. Health tourism is a kind of tourism that allows traveling from one country to another for the benefit of any kind of health service, traveling for health purposes, and allowing the growth of health institutions by using international patient potential. Buldanlıoğlu ranked health tourism as medical, dental, thermal, wellness, sports for health, healthy eating, barrier-free and senior tourism. Buldanlıoğlu defined elderly tourism, residence of people aged 55 and over as travels for health purposes, other than the places where they work.
Buldanlıoğlu stated that the TRNC can be brought to be a branded, sustainable and sought after destination which is preferred in the general health tourism especially in the aged tourism and with the quality, service and appropriate wage policy in the Mediterranean Region. Buldanlıoğlu aims to create sustainable life principles and healthy life policies for the elderly and disabled, to reach the world standards of health tourism infrastructure, to provide competitiveness for it, to establish health insurance for health tourism, sectorial accreditation and professional trust regulatory and physical infrastructure for the target group and to undertake arrangements to raise qualified human power.
Buldanlıoğlu: TRNC climate suits thalasso therapy
Budanoğlu stated that there are a lot of hotels in the TRNC for the advanced age in terms of health tourism and that the climate is convenient, beautiful and the sea is suitable for thalasso therapy. Buldanlıoğlu said that in the TRNC, there are highly educated work force who are experienced in tourism and especially elderly tourism and have a knowledge of foreign language  and that also there are organic farming opportunities, natural resources and virgin flora and fauna, intellectual accumulation, and sufficient number of experienced tourism and travel agencies.