Calligraphy artist Osman Kartaler made practice with EUL students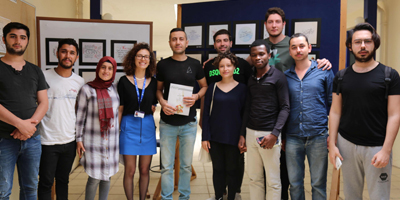 "A Travel to the Magic of the Words" titled event held at EUL
European University of Lefke (EUL) Cinema Club organized an event titled "A Travel to the Magic of the Words". The calligraphy artist Osman Kartaler attended the event and the students had the opportunity to practice the art of calligraphy. The event, which was conducted with the presentation of Kartaler, was held as an interview and a workshop.
Kartaler gave information to the students about the calligraphy art and answered their questions in the interview section of the event and said that the art of calligraphy could be defined as writing letters in a beautiful way. Underlining the calligraphy should not to be confused with           islamic calligraphy, Kartaler said that the art of islamic calligraphy should be understood as the usage Arabic letters, and that calligraphy is the art of letters with the usage of Latin words.
In the workshop, students applied basic calligraphy techniques with the leadership of Osman Kartaler. Moreover, Kartaler asked the participants to paint their own imagination on the stencil drawing sheets that he handed out to them.
Expressing his thoughts about the event, Kartaler stated that the interview and workshop with EUL students was very pleasant and productive and thanked the university for their invitations and hospitality. Kartaler said that in addition to the application of basic calligraphy techniques in the workshop with the students, and added that the students painted the thoughts they dreamed and different drawing works emerged by the students..
The exhibition consisting of the works of calligraphy artist Osman Kartaler was presented to the audience.