Can Disability be Turned into an Advantage? EUL Academician Asst. Prof. Dr. Ayse Nazim replied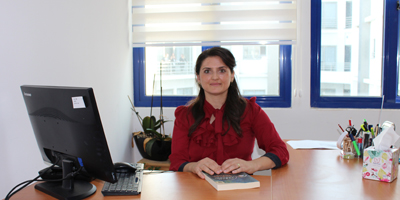 European University of Lefke (EUL) Faculty of Health Sciences Department of Social Work Lecturer Asst. Prof. Dr. Ayşe Nazım gave some information on the question., "Can Disability Be Turned into an Advantage?"
"Having a disabled person in the family is a situation that affects all family members. Although this situation is often referred to with negativities, it provides an important opportunity for people to understand that love and differences enrich life," said Nazım and continued his words as follows; "Today, parents often forget that they have the potential to teach children the basic values of life, while they are in a hurry to send their children to the best schools or to ask the "most expert" about the processes considered natural for child development. In an increasingly complex social life, parents should teach their children to love and be loved, and to respect differences by helping them understand differences.
Children who know how to respect differences can create a healthy identity.
"It is one of the most important responsibilities of parents to explain the differences to children, to offer them the opportunity to observe the differences and to teach children that difference is richness. However, children who are aware of the differences in social life and know how to respect the differences can create a healthy identity," said Nazım. However, since almost all of the scientific studies on disability today focus on the disadvantages, Nazım said that the advantages of disability are ignored and continued: In a recent study conducted in South Korea, Park, Ryu, and Yang (2021) state that in families with a disabled member, siblings provide emotional support that their parents cannot provide, and that siblings with disabilities provide psychological and social support for healthy family development. In addition, the authors state that having a disabled sibling benefits the development of positive self-awareness, insight, and perseverance. Two similar studies (Aykara, 2015; Güvenç, 2016) conducted with children with disabled siblings in Turkey reveal that the attitudes of children with disabled siblings towards their disabled siblings vary depending on whether the parents accept the disabled child or not.
Finally, Nazım said, "The positive attitude of the parents towards the disabled child turns into the positive attitude of the child towards the disabled sibling. In short, although disability creates many disadvantages, it provides an important advantage in bringing positive values to children while raising new generations.