Children's Rights Exhibition at EUL created social awareness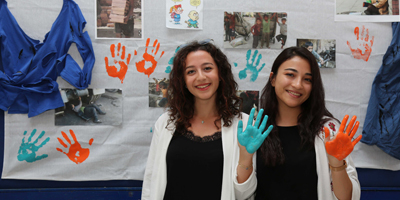 "Children's Rights" themed exhibition was held at the Rauf Raif Denktaş Educational Complex by the European University of Lefke (EUL) Dr. Fazıl Küçük Faculty of Education Department of Pre-School Teaching.
Delivering a speech at the opening ceremony, Dean of Dr. Fazıl Küçük Faculty of Education Prof. Dr. Oğuz Karakartal conveyed his sincere thanks to the instructors of Children's Right Course Assist. Prof. Dr. Azize Ummanel and Head of Department of Elementary Education Assist. Prof. Dr. Çağda Kıvanç Çağanağa for their contributions. In her speech, Assist. Prof. Dr. Sibel Kaymakamoğlu expressed that she believes that the prospective teachers of the Dr. Fazıl Küçük Faculty of Education will continue to take care of our children so that they can live their childhood happily and freely in a safe environment without being exposed to any danger or threat, without worrying about the future.
EUL students highlight the importance of children's rights in the schools
Giving information on the exhibition, Assist. Prof. Dr. Azize Ummanel stated that it has been 30 years since the signing of the Convention on the Rights of the Child adopted by the United Nations General Assembly on 20 November 1989 and added that this special day is also celebrated in our country. Ummanel went on to say that within the scope of the Children's Rights course that the students of European University of Lefke Department of Elementary Teaching took, they organized an exhibition with the surrounding schools on the anniversary of the contract in order to create social awareness both within the university and society.
Brochures and posters on children's rights were handed out
Ummanel said that "A group of students working with 4th and 5th grade students in environmental schools gave them animation-supported information about their rights as well as rights-based art events. A group of students prepared written and visual materials based on the provisions of the Convention on the Rights of the Children" and added that the exhibition included brochures, posters, billboards, models and videos with the participation of Turkish and foreign students within the scope of the themes of neglect and abuse, working children, children who had to migrate, children who were married at a young age, children living on the streets and sick children.