"Coffee Culture in the World and Turkey" was discussed in EUL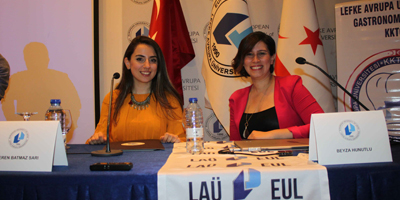 Coffee, the most consumed beverage after water
A conference on "Coffee Culture in the World and in Turkey" was held by European University of Lefke (EUL) Gastronomy Club. Nestlé Nutrition, Health and Well Being Director & Dietician Ceren Batmaz Sarı and Nestlé ARGE Engineer Beyza Hunutlu attended the conference organized at Rauf Raif Denktaş Educational Complex Conference Hall. The speakers gave presentations on the subjects of "Coffee, Nutrition and Health" and "Kitchen Products Technology and Production Processes" and gave information to the participants.
Sarı: The coffee comes from two types of coffee beans called 'Arabica and Robusta'
Starting with a video presentation for his presentation, Sarı has said that coffee has been a part of life for many years, and that have conducted varieties of scientific work on the most consumed drinks and coffee after water. Sarı gave information about introducing coffee, saying that the coffee was a plant that originated in Ethiopia and grew green all year long, a woody plant that protected its leaves. She said that Arabica is a broad-leaved plant and Robusta is a plant with leaves that extend upwards, saying that Arabia has a cup of coffee called Arabica and Robusta.
Sarı said that these plants used in coffee making have different characteristics in creating taste and texture. It was emphasized that these plants were growing in the field where they were exposed to rain, that the coffee beans should have plenty of water to grow well and that frost should not occur in the regions they grew up. Sarı said that the coffee was first popular in Yemen and that it could not be grown all over the world, but only in tropical regions. She informed that leading production of coffee was in Brazil and most of the coffee was consumed in Northern European countries.
Hunutlu presented a video screening on the innovation in the ongoing conference. Hunutlu said, "Innovation means changing or creating the existing one, which will be implemented in 3 stages. First the idea is generated, then the idea is supported with information and the prescription is developed. Later, the proposal process is carried out and finally our innovation ends here to result in brand value. "
Hunutlu gave detailed information about the preparation techniques of coffee making, serving and preserving, and also presented examples from many countries about coffee making, coffee storage conditions, service techniques and coffee usage in the world.
In the second part of the activity held in EUL Gastronomy Cuisine, Barista Ahmet Orkun Kizilay conducted practical works with students of Gastronomy Department on coffee and kitchen products. Kızılay showed the different kinds of coffee made with nescafe to the students and gave the students a chance to taste the products.
In the event, coffee and varieties were introduced for the students, coffee service techniques were explained, and informative presentations took place. Students had the opportunity to prepare and serve different types of coffee with appropriate methods and techniques.