Community Service Practices from EUL Students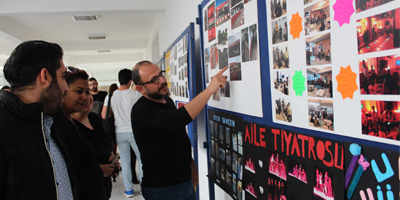 European University Lefke (EUL) Dr. Fazıl Küçük Faculty of Education Department of Guidance and Psychological Consulting held an exhibition themed "Community Service Practices". The exhibition which took place at the EUL Rauf Raif Denktaş Faculty of Education was moderated by Academician of Classroom Teaching Department Assist. Prof. Dr. Özcan Palavan.
Community Services Practices increases the social awareness and sensibility
Palavan stated that they are involved in a number of projects to increase the social awareness and sensibility of the students within the context of Community Service Practices. Pointing out that there are examples of these beautiful projects on display with the theme "Hand in Hand with Society" organized by the students' projects, Palavan stated that in the primary schools of Yeşilyurt, Aydınköy, Yedidalga, Doğancı and Lefke students have conducted projects such as garden arranging, flower planting, drawing templates of new playgrounds in order to create a better playground for children.
Adoption of a Reading Habit 
Palavan stated that similar projects were conducted at the Yeşilyurt Special Education Centre and Güneşköy Rehabilitation Centre and added that projects such as "I'm learning Chess" to improve skills of elementary school students and "Sports Encouragement" to teach table tennis have been also developed. Palavan emphasized that in order to encourage reading, they have placed bookshelves at the bus stops with the slogan "Do not Stop Reading!" and he added that they regularly organize reading activities in order to encourage reading. Palavan said that they have also formed a "Tale Library" at SOS Children's Village in order to popularize reading at the village.
Environmental Awareness was raised with the "Recycle and Give Life" titled project
Palavan said that with the environmental awareness project titled " Recycle and Give Life", waste products (such as old wheels, demijohns, fruit and vegetable cases) were put to good used as animal shelters. Palavan also stated that they have organized fair in support of children with leukemia and cancer patients and added that these organizations set an example of what is done under the framework of related courses and shed a light on what can be done.