Cyprus Culture Introduced at EUL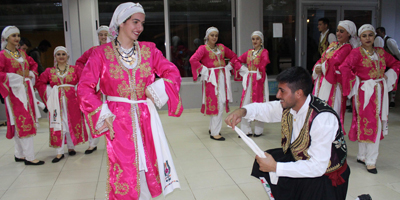 Winds of Cyprus blew at the Cypriot Culture Night held at EUL 
"Cyprus Culture Night" which was organized under the framework of the 2018-2019 Spring Term Orientation Week organized by the European University of Lefke (EUL) Directorate of Internationals Office attracted intense participation of the students.
Folk Music of Cyprus received appreciation
In the Cyprus Culture Night organized within the scope of the orientation program, students who are newly enrolled in EUL had the opportunity to get to know the culture of Cyprus. In addition, orientation processes of the students were eased by the orientation teams.
Newly registered students at Cyprus cultural night had the opportunity to know the cultural values of Cyprus
Dishes of Cyprus Cuisine were offered at the event and Mediterranean Ayrini Culture and Arts Association (AYDER) performed Cyprus Folk Dance show to the participants. The cultural music and folklore show of our cultural values of Cyprus were highly appreciated in the night. Students also enjoyed music and cultural games during the night. In the event where winds of Cyprus blew, students were given an important opportunity to socialize and recognize different cultures.